Regular price
Sale price
$45.00 USD
Unit price
per
Sale
Sold out
Hyperion's Mucuna Extract is a concentrated form of the Ayurvedic herb Mucuna Pruriens also known as velvet bean; a natural supplement for L-Dopa.
Ingredients

100% pure mucuna extract. THAT'S IT. Made from organically grown nettle roots. Absolutely NO fillers, flow agents, binders, or growth mediums.
Nutritional info

Concentration: 15% L-Dopa
Container Size: 4 oz. | 112 grams
Suggested Serving Size:1/4 teaspoon which is about 1 gram.
Serving Per Container: 110 servings
Cost Per Seving: $0.41 per serving
Directions: Add 1/4 teaspoon (or as directed by your health professional) to the beverage or food of choice
Shipping

Free Shipping on all orders in the USA over $50. All orders generally ship with in 1-2 business days from the warehouse in Savannah, GA. If products sell out or are on pre-order then shipping will be delayed
View full details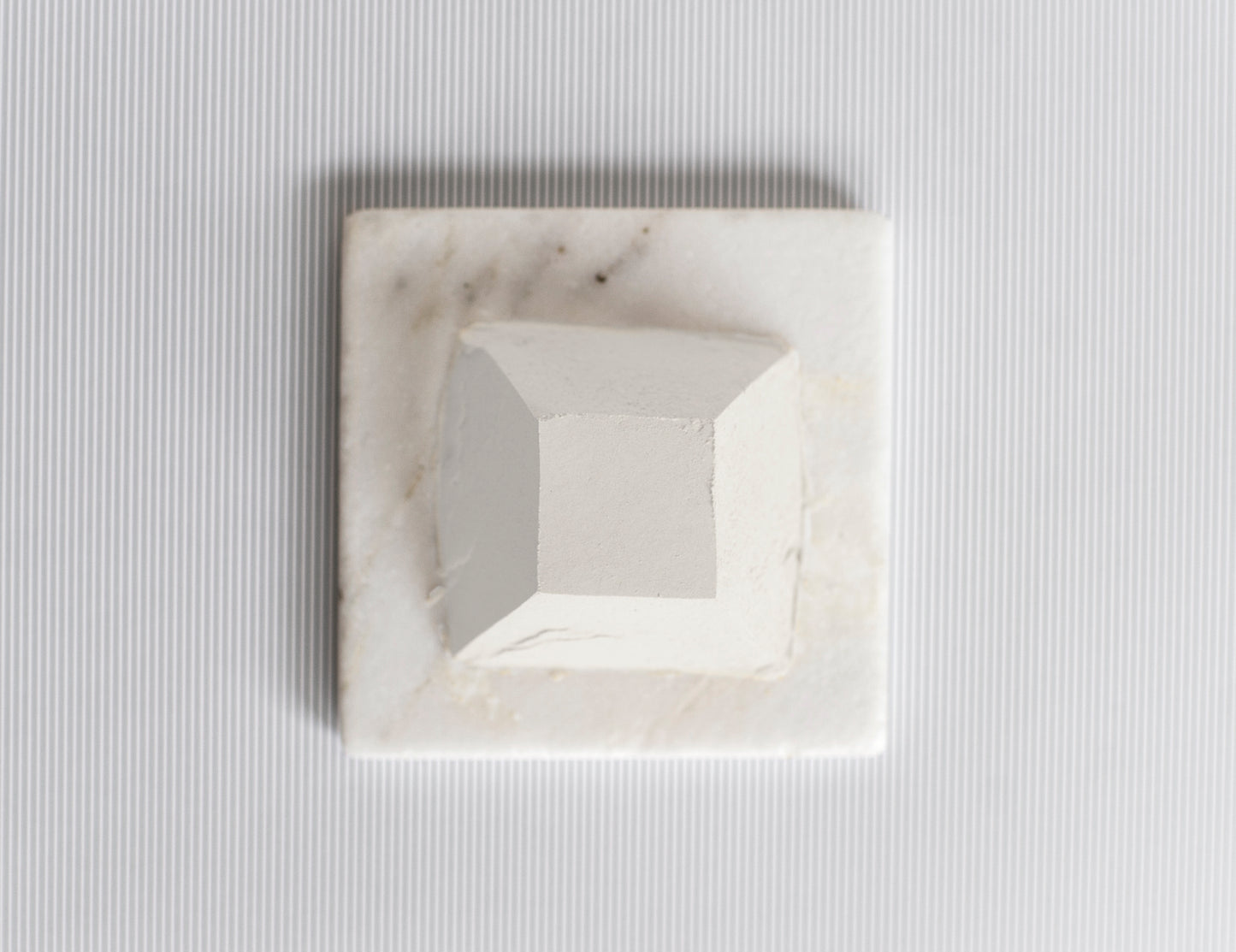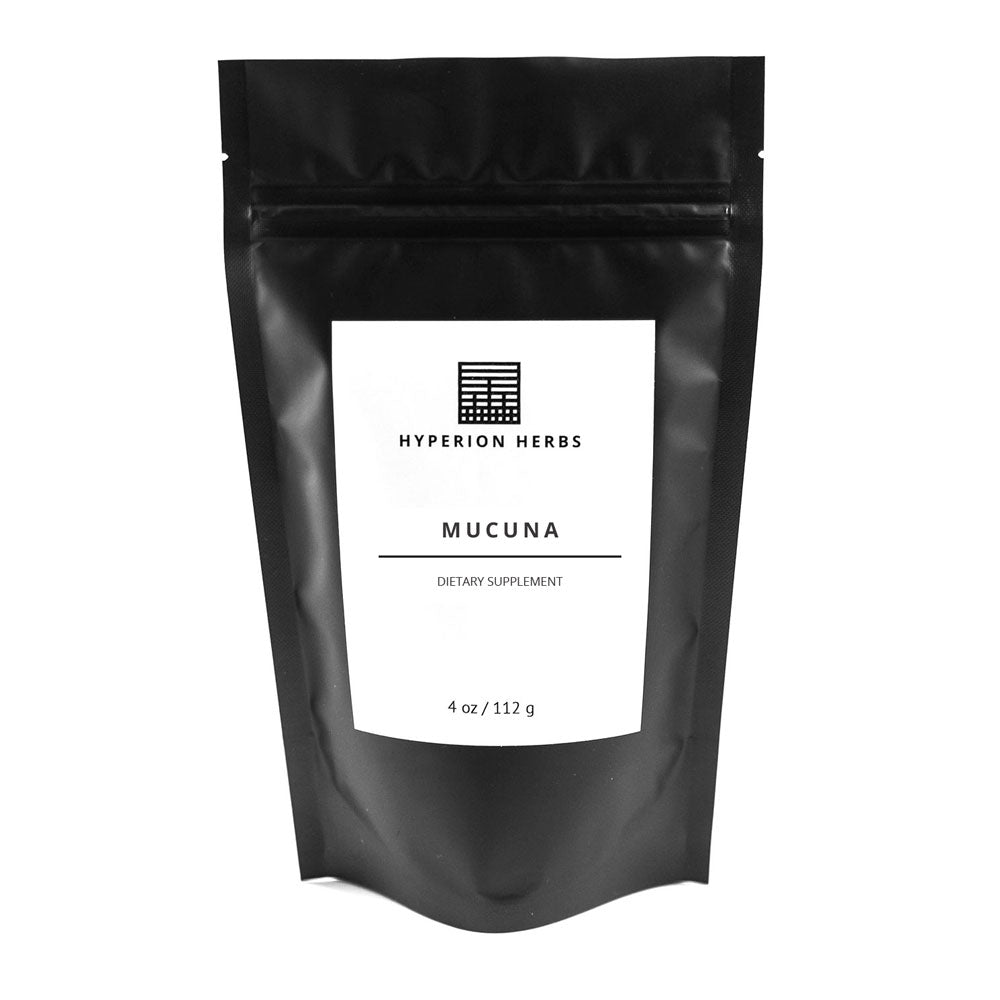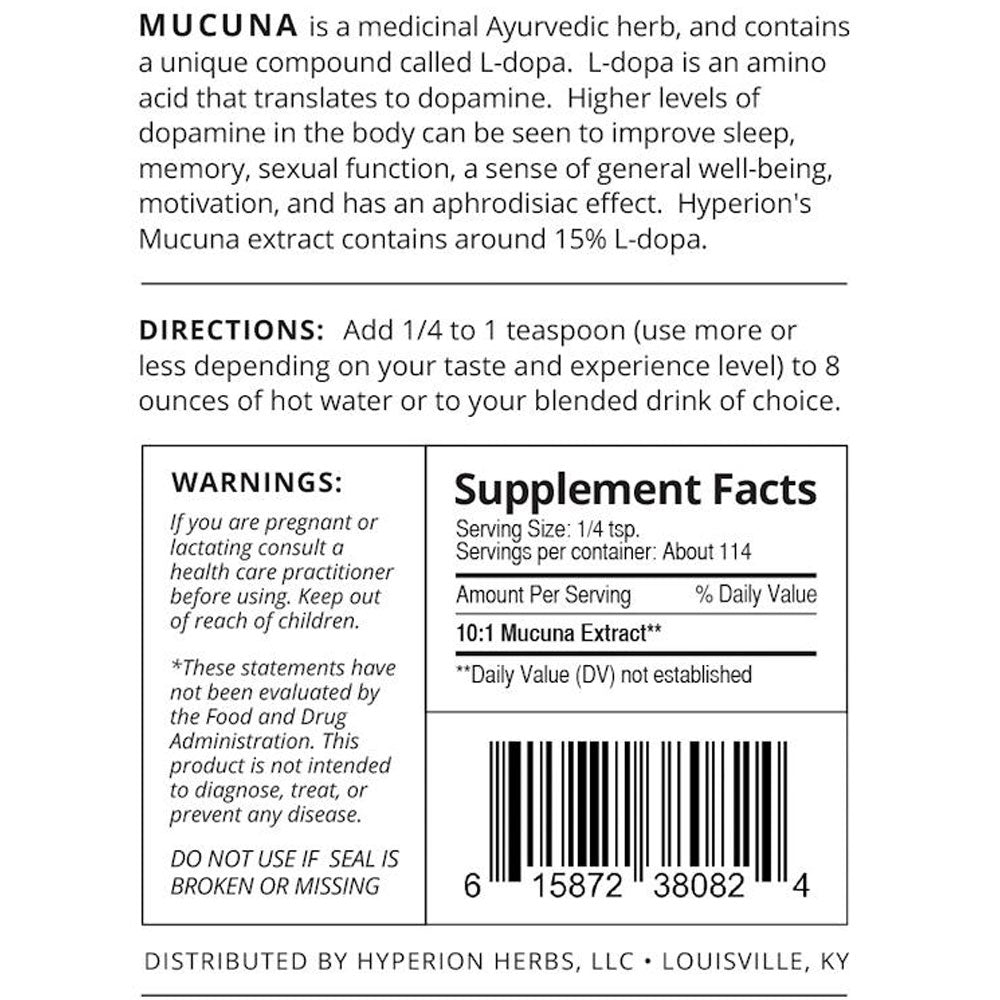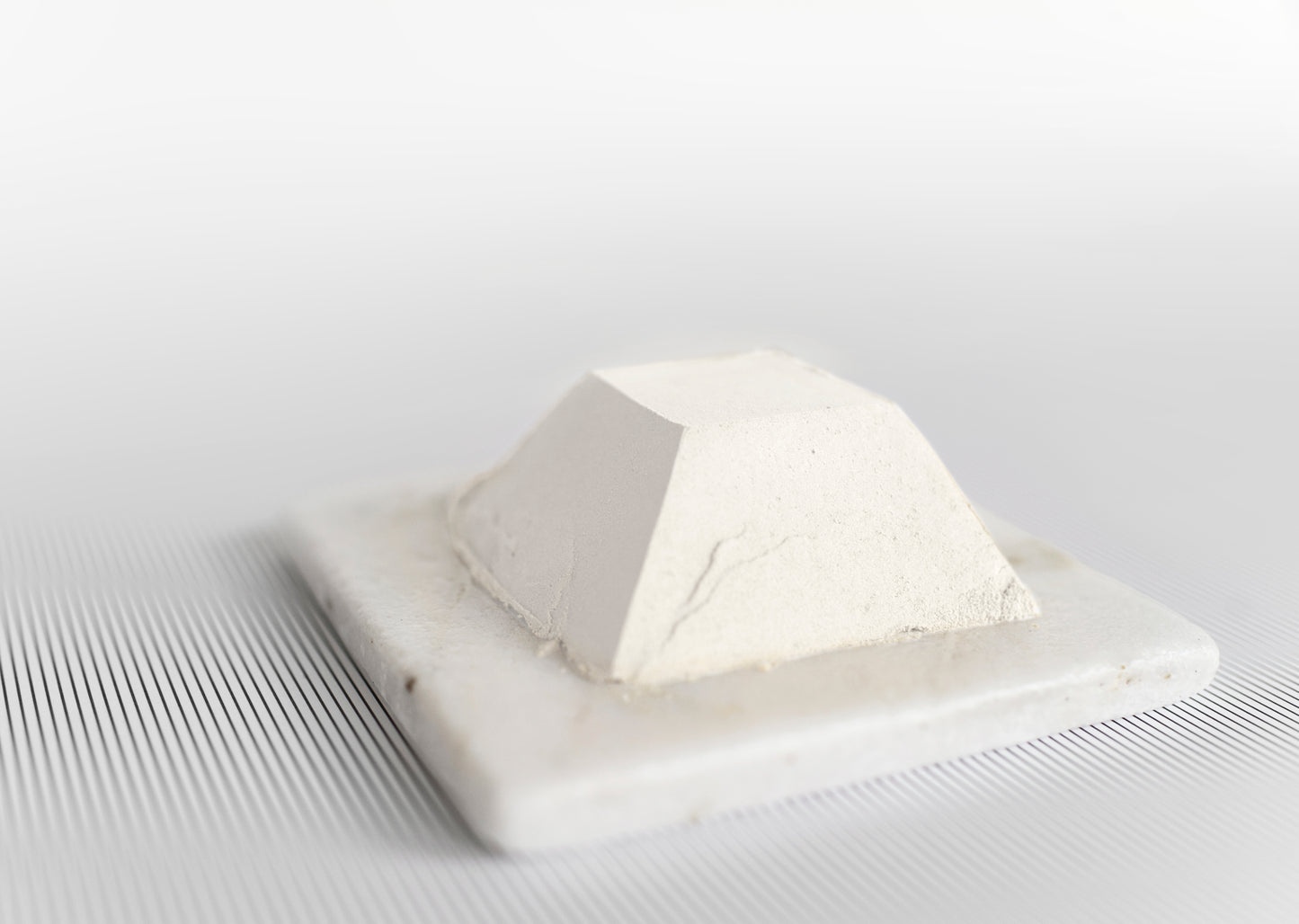 Delicious and Potent Mucuna Extract With 15% L-Dopa.
Game changing quality AND delcious taste.

Potential benefits of Mucuna extract...

Improves mood and reduces stress
Mucuna contains L-dopa, which is a precursor to dopamine. Dopamine is a neurotransmitter that regulates mood, motivation, and focus. Mucuna may help boost dopamine levels and improve mood and mental wellbeing.
Enhances focus and concentration
By optimizing dopamine activity, mucuna can help sharpen focus, boost concentration and mental drive. This makes it popular as a study or work productivity aid.
Promotes restful sleep
Mucuna has anti-stress and calming properties that may help initiate sleep and enhance sleep quality. The optimized dopamine levels also promote healthy circadian rhythms.
Boosts energy and endurance
The increased dopamine levels give an energy boost similar to caffeine but without the jitters. Mucuna is used by athletes and active individuals to enhance endurance and stamina.

Uncompromising Quality and Effectiveness
This isn't some bargain-basement supplement; it's the fruit of my nearly 20 years experience in the industry. Each 4 oz package boasts over 100+ 1/4 teaspoon doses of the most potent Mucuan extract on the market. At a mere $0.45 per dose, it's a steal.
Ethical Sourcing
Sleep easy, knowing your Mucuna Extract comes from green, clean sources. We're talking organically grown, full-maturity goodness – a true gift from Mother Nature.

Not for everyone
Despite what you might read online, Mucuna is not a tonic herb nor an adaptogen. It's more a medicinal herb that is only needed for certain people in certain conditions. This is definately not an herb to take massive doses of and not something to take if you don't actually need it.
Contraindications
Mucuna supplements are not recommended for pregnant/nursing women, those taking Parkinson's medications, or people with unstable medical conditions except under a doctor's supervision. Mucuna's effect on hormones and neurotransmitters can produce adverse effects in some situations.